How To Transfer Your Current Skills to a Yachting Career
Looking to launch your career on a superyacht, but never stepped on a boat?
That's okay! Once you've done your mandatory safety training, you'll find that many skills from your previous career or life are transferable to the yachting industry.
Today we'll dig into a few common skill areas that people bring to yachting -- and help you see how you can take these experiences and transfer them to your yachting resume!
Superior Customer Service
So many careers have a component of customer service, and yachting is no different. So if you've worked in customer service jobs in the past, you'll have some valuable skills to bring to the table.
Have you worked as a server in a restaurant or selling in a retail shop?
Your customer service experience might include responding to customer inquiries about their phone bill or insurance claim. What did you learn in these jobs?
Give some thought to what works and what doesn't in customer service, and collect some of your stories of the highs and lows of your own experience.
Maybe you'll remember how your suggestions helped a tourist you met have the best trip to your home city. Or maybe you defused a customer who was ready to cancel an account by resolving their problem.
Or perhaps, you're recalling when you just couldn't make a person satisfied, no matter what you tried, but you kept a positive attitude anyway and your boss ultimately congratulated you on keeping your cool in a tough situation.
These are your stories -- and they're skills you can transfer to your yachting resume.
Highlight your experience dealing with a wide range of people in sometimes challenging conditions, your commitment to making their experience the best it can be.
Think of times when you went above and beyond the expectations of your job to leave a lasting impression.
Yacht owners and captains need their guests to have the experience of a lifetime, and strong service by the entire yacht crew is a critical piece of this.
Quick hits: Your yachting CV should demonstrate how you're a responsive, courteous, imaginative, and adaptable customer service provider.
Work With Your Hands
If your previous work history involves mechanical, technical, or construction trades, you're in luck! Yacht crew are the people involved in keeping the boat running smoothly, and often this includes making repairs or troubleshooting while away from the marina.
Your work history in these trades will be valuable to captains and owners, so think about the situations you've encountered and the problems you've solved.
Perhaps you ran short of materials on a rush job and had to improvise a solution. Or, you've worked long hours to finish a project on schedule. Maybe you've worked in small spaces or small engine repair.
Make your list, and then see how you can transfer these experiences onto your new yachting resume!
Quick hits: Your yachting CV should show how your hands-on experience gives you a cool head in a crisis, a range of skills to fix diverse equipment, and a working knowledge of different systems and tools.
People & Resource Management
Is your work experience in the management or consulting arena?
Whether you've managed people working on a team, or resources like inventory, you're prepared to step into a yachting career.
Making the jump from professional services can sometimes feel like a step back, as many yachting jobs are entry-level and many yacht crew are young. However, your expertise can be valuable on your yachting CV!
Superyacht crew must become masters of management -- whether it's a chef controlling food stores for great meals and optimal freshness or a Chief Stew directing a small team of stewardesses for the most efficient cleaning routines.
When you're making up your yachting resume, focus on how your experience helped you make things run smoothly and how you maintained a positive environment for your team.
These skills, more than spreadsheet management or specific human resources resolutions, will speak most clearly to your future boss.
Quick hits: Your yachting CV can highlight your ability to be fiscally responsible with resources, or how your experience could help you defuse hot tempers and make a small team work efficiently.
Health & Wellness
Looking to make the leap to yachting from a career as a massage therapist, a fitness instructor, or even a medical provider?
Good news -- these backgrounds are definitely in demand, and if you are able to add a bonus service to your yacht, you'll be an attractive candidate.
Now the question is, how to set yourself apart from others with a similar background?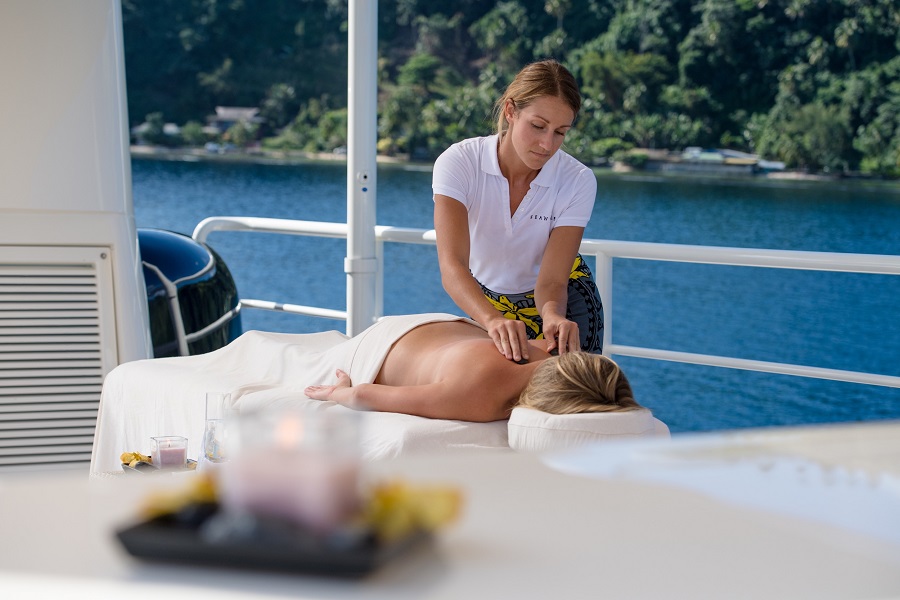 The important thing for health and wellness candidates is to match this skill with other skills from your life. After all, there isn't enough space for a yacht to employ someone only as a wellness crew - you'll also have to carry your weight as a stewardess, deckhand or chef.
So while you highlight your trade experience in taking care of people, make sure you also talk about another element of your work and why it's relevant for your yacht career.
Maybe you also managed your own bookings and client follow-up, and have above-average communication skills.
Or, you built your own website and you're a techie so you can maintain the boat's A/V systems. Think creatively and make sure your CV reflects ALL of your skills!


Quick hits: Be upfront with your top-selling skills of fitness or spa services -- but match these with another hard skill that's of value to the boat. You're a multi-purpose person and you're ready to bring your business, personal, or hands-on skills to your new yacht!
Need more help moving from a professional or trade career into the world of Superyachts? That's why FreshYacht is here! We're ready to help you every step of the way as you launch your new adventure.
Stay connected with news and updates!
Join FY Insiders to receive the latest news and updates from our team.
Don't worry, your information will not be shared.
Join