Drones in Demand
Have you dreamed of seeing the wilds of Alaska, or the turquoise waters of the Caribbean -- from the sky?
As a yacht crew, one of the many skills you could develop is working as a drone pilot -- capturing amazing, inspiring video from the air.
It's not a simple task, but it adds incredible value to the guest experience, and can help you stand out from the crowd of superyacht crew with this unique skill!
Fresh Yacht sat down with an experienced yacht crew, Trevor, to learn about how he's mastered the art of piloting drones, the unique challenges of flying from a yacht, and why it's made a difference in his yachting career.
Trevor will share some stories and give you his top tips for learning how to be the master of the skies as a drone pilot onboard!
Thanks for joining us, Trevor! Can you start by telling us a little about yourself?
Hey! Happy to be here. I got started in yachting 12 years ago, and I was lucky that I found an opportunity through a family connection.
At first, it was just a job, I was just having fun and enjoying the traveling, but then after a few years, I decided to make it a career and run with it.
Just like anything else, there are sacrifices you make, but I couldn't think of anything that would fit me better!
How did you start flying drones from the yacht?
I got started as a drone pilot while I was working on a charter yacht going to Alaska.
One of the things this yacht offered the guests was a highlights video at the end of their trip -- a cool reminder to take home (and often something that helped them give us a good tip!)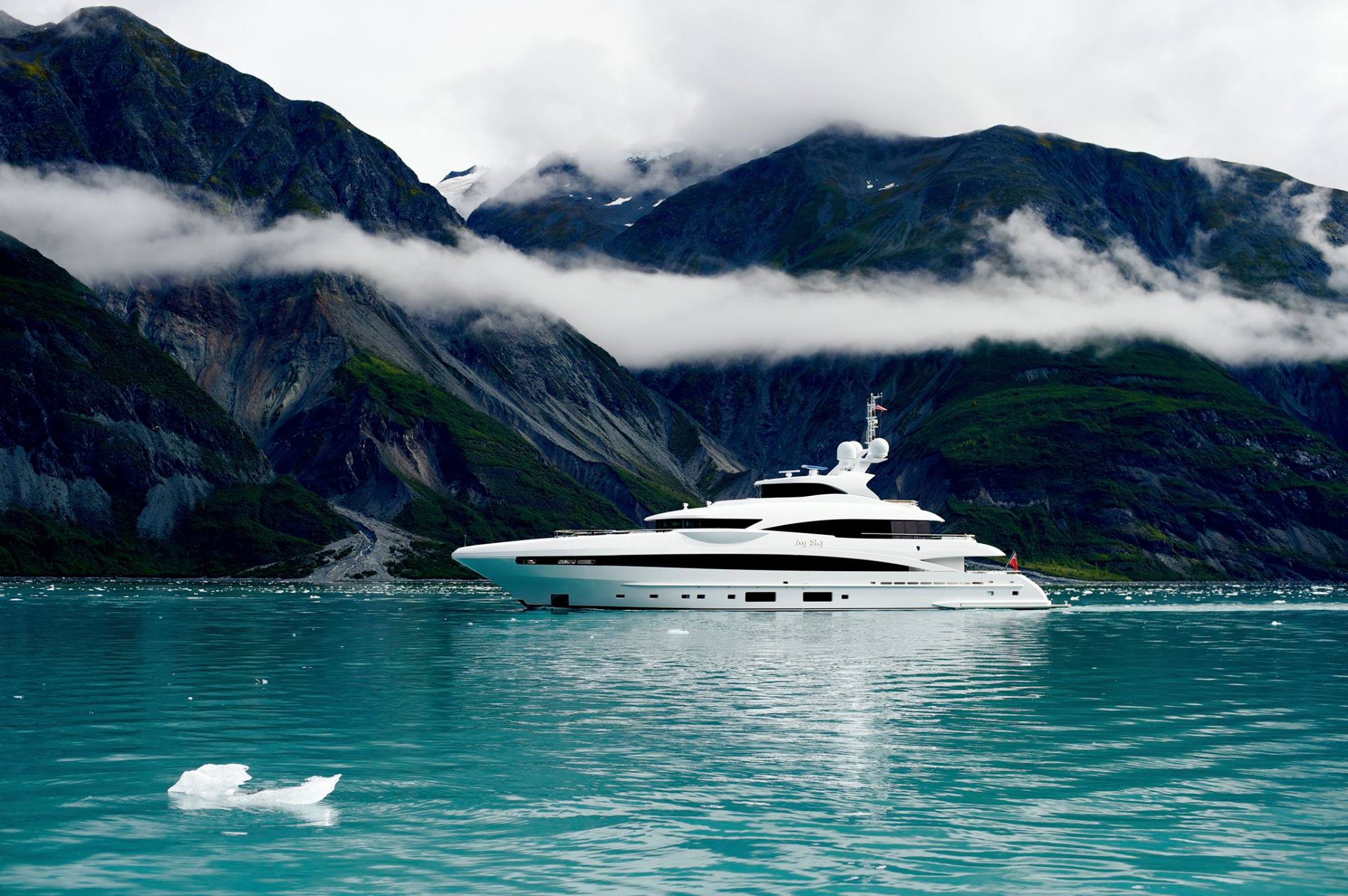 I'd seen some of the previous videos, and I thought I could take them up a notch by using a drone. There was a drone onboard but no one was using it as everyone was afraid to fly it!
So I decided to figure it out, and I started to use my videos as a part of the guest highlights reel. It was a huge hit!
How did you learn this skill?
I really taught myself. I started by flying the drone around in an open area and getting a feel for it without the risks of a smaller space.
The drone they had was quite large and would only go a short range from the controller, so I had some challenges -- I wanted to capture these expansive views you have up in Alaska and that area.
I ended up buying my own DJI drone and it let me go up to 3, 4 miles from the boat once I'd gotten more comfortable with it.
That allowed me to capture some really cool shots - guests fishing, wildlife, bears and whales and overhead views I couldn't get before.
What were some initial challenges?
Flying a drone from a yacht is very different from flying from a field or a stationary building.
You are taking off and landing from a moving boat - so you have to be very aware of where you are moving and in what direction, otherwise, you could easily run into something.
You also can't depend on the programs that bring your drone back to its starting point - because, on a yacht, that starting point is now the water!
It's also really helpful to have a captain that's willing to work with you and doesn't see you flying the drone as a complication or annoyance.
When you're at anchor flying the drone is relatively easy, as long as there's not much wind.
In parts of the Caribbean, it's pretty tough as it can be quite windy and that can affect the safety of flying the drone.
The other part people sometimes overlook is what you're going to do with the video, once you have it.
I had to learn how to edit videos and photos together with music into a nice video.
You'll want to put together a finished piece that's maybe 6-8 minutes, but that could take you extra hours to create, and you're already busy working your other jobs.
So, it's important to both have video editing skills or be willing to learn, and you've also got to be willing to put in this extra time.
Why would you recommend this skill to aspiring yacht crew?
I think this is one of the top bonus skills a yacht crew can have. You can add it to your yachting CV and it's a great way to stand out from the crowd as many people aren't willing to put in the training or aren't comfortable taking on this extra work or project.
Having this to offer will help your guests walk away happy - and that makes the boss happy with you, too.
Finally, you're traveling to some amazing places when you work on a yacht, and having your own photos, videos, and memories will be something you love after you've left some of these once-in-a-lifetime destinations.
What tips would you share for someone to get started?
First of all, having the right equipment is really important. Not only will your product be important for the quality of your video, the limitations of how far it can fly or in what conditions is a big piece of your success.
Practice also is critical. It's helpful to get comfortable with the basics of flying and landing the drone in a clear, wide-open area -- because you'll want to know exactly what you're doing when you're flying in more challenging conditions.
Be confident! You will need to do some amount of pushing your limits to capture the video you really want, but also be aware of your skills and limitations.
Teach yourself to think artistically -- how will you do something different? What angle do you want? How will you capture something? How will you create it into a video at the end of the day, so you're not wasting time just flying it around?
You're limited on time and battery, and you're busy. This is just one small part of your job.
Don't leave it all the way to the end of the trip. Take video throughout the trip and make the video a little at a time.
If you leave it all to the end, you'll already be exhausted from working your normal job, and then you'll have this huge project to complete.
Don't make the video too long. Be selective - you can always give guests a thumb drive with everything but the video should be short and a mix of videos and photos.
People like to see themselves in the videos and photos -- that's a big hit.
Thanks for chatting with us, Trevor!
If you're ready to start your very own career on a superyacht, FreshYacht is here to help!
Stay connected with news and updates!
Join FY Insiders to receive the latest news and updates from our team.
Don't worry, your information will not be shared.
Join